Bishop-elect / Intern Zen Teacher
---
A Bishop-elect (Intern Zen Teacher) is a Senior Monk/Priest who has been chosen to become a Bishop, and who has not yet been consecrated. The word "elect" does not necessarily mean "democratically elected." It simply means "chosen" by a Zen Master to begin as an Intern Zen Teacher with students under the supervision of the Zen Master.
---
Ven. Ryongwan Karuna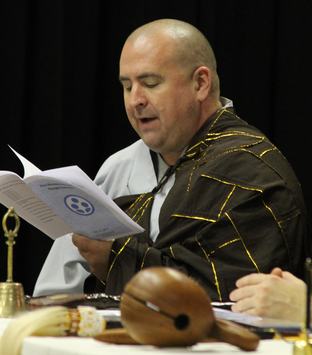 Ven. Ryongwan Karuna was ordained as a sramanera at Kwan Um Sa in Danville, Illinois on December 13, 2014. He lives in Evansville, IN and is an Assistant Professor in the School of Social Work at the University of Southern Indiana in Evansville. He is a licensed clinical social worker (LCSW), a licensed clinical addiction counselor (LCAC), a member of the National Association of Social Workers (NASW), and is recognized as a member of the Academy of Certified Social Workers (ACSW) by NASW. He currently serves as a representative on the Board of Directors for the Indiana Chapter of NASW. His work is primarily with adults addressing mental health and addiction issues. Additionally, he works part-time at an outpatient therapy practice in Evansville called Within Sight.

His first exposure to meditation and eastern philosophy in general, and the teachings of the Buddha specifically, came in 1991 when he started studying martial arts. Over the years he has had the opportunity to study with several different groups in a variety of approaches, including Japanese Tendai, Tibetan Kagyu, and most recently insight meditation approaches with a local group. He sits with the Mindful Heart Buddha Sangha, leading sittings, giving talks, assisting with introductory workshops and retreats. He is currently enrolled at Buddha Dharma University. ​
---
Ven. Cheolsoeng Prajñā (Viet: Thích Hiền Tính) first became interested in Zen Buddhism when he was 8, watching the show Kung Fu with David Carradine. He grew up to become a developmental research psychologist who studies how television and the media influence children. Apparently he should have conducted the research on himself.
​
Ven. Cheolsoeng holds a Ph.D. in psychology, an M.Div in Buddhist ministry, and completed the Secular Buddhist Studies certificate at the multi-lineage Interdependence Project in New York City, as well as their meditation teacher training program. He studied personally with Ethan Nichtern, a senior teacher in the Shambhala lineage, and is currently under the guidance of Most Ven. Wonji Dharma.
He resides in Ames, Iowa with his wife, daughters, and rabbit named Nutmeg. He is one of the leaders of the
Mindfulness and Meditation
group at the Unitarian Universalist Fellowship of Ames. If you are ever near on a Sunday evening, he invites you to drop in.
---