Bishop-elect / Intern Zen Teacher
---
A Bishop-elect (Intern Zen Teacher) is a Senior Monk/Priest who has been chosen to become a Bishop, and who has not yet been consecrated. The word "elect" does not necessarily mean "democratically elected." It simply means "chosen" by a Zen Master to begin as an Intern Zen Teacher with students under the supervision of the Zen Master.
---
Rev. Beopbo Sunya Dharma
Thích-Nữ Đức Bảo
Reverend Boepbo Sunya Dharma began studying with Venerable Sunyananda Dharma in the Spring of 2009. Already a licensed and ordained Unity Minister (having graduated from the Unity Urban Ministerial School in her hometown of Detroit Michigan), she took to the practice of the Dharma easily and enthusiastically.

Rev. Boepbo has continuously applied herself to her monastic formation, and thus is not only fully ordained in both the Korean and Vietnamese Zen traditions, but has also been installed as a Dharma Holder and as Abbess of the Kansas City Sangha. Rev. Beopbo was authorized as a Dharma Holder during the Vesak Ceremony at Dharmakaya Buddhist Abbey on April 18th 2014.

Rev. Boepbo has a background in graphic design and creative direction; holding a BFA, she is currently employed at the Unity World Headquarters, whilst being engaged in continued weekly study and practice with Ven. Sunyananda.
---
---
Ven. Ryongwan Karuna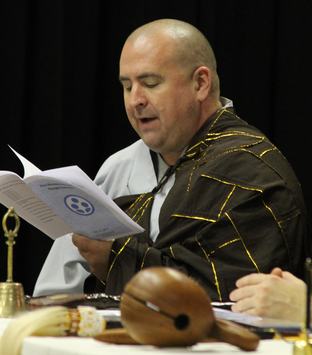 Ven. Ryongwan Karuna was ordained as a sramanera at Kwan Um Sa in Danville, Illinois on December 13, 2014. He lives in Evansville, IN and is an Assistant Professor in the School of Social Work at the University of Southern Indiana in Evansville. He is a licensed clinical social worker (LCSW), a licensed clinical addiction counselor (LCAC), a member of the National Association of Social Workers (NASW), and is recognized as a member of the Academy of Certified Social Workers (ACSW) by NASW. He currently serves as a representative on the Board of Directors for the Indiana Chapter of NASW. His work is primarily with adults addressing mental health and addiction issues. Additionally, he works part-time at an outpatient therapy practice in Evansville called Within Sight.

His first exposure to meditation and eastern philosophy in general, and the teachings of the Buddha specifically, came in 1991 when he started studying martial arts. Over the years he has had the opportunity to study with several different groups in a variety of approaches, including Japanese Tendai, Tibetan Kagyu, and most recently insight meditation approaches with a local group. He sits with the Mindful Heart Buddha Sangha, leading sittings, giving talks, assisting with introductory workshops and retreats. He is currently enrolled at Buddha Dharma University. ​
---
Ven. Songdo Prajna
Thích Hiền Thành
Ven. Dr. Songdo Prajna is originally from Oxford, England, and has resided in the Pasadena area of Southern California since around 1990. He is ordained as a Brahmajala Priest with Five Mountain Zen Order. He has been practicing Zen since his late teens, having been introduced to Zen through the writings of the likes of Alan Watts, DT Suzuki and Christmas Humphries, and the teaching of the British Zen Master Douglas Harding. Additionally, he has maintained a parallel practice in the Christian faith, becoming a Third Order Franciscan when he was in his early 20s. Growing up as an Anglican, he transferred to the Episcopal faith in 1990, and then eventually became ordained as an Ecumenical (independent from Rome, liberal) Catholic Priest. Further, he also took precepts in the Soto Zen lineage of Maezumi Roshi (White Plum Sangha), receiving the Dharma name Tetsudo at the Zen Center of Los Angeles which he first attended in 1973. He is married with two children, a daughter who is an Episcopal Priest and a son who is a specialist in both medieval and modern literature. His wife is a university professor of English, a Sufi and an author of various books on poetry.
Rev. Songdo is a Board Certified Palliative, Hospice and Pediatric Chaplain, being certified both as a Christian and Buddhist chaplain; he ministers to patients in the greater Los Angeles and Orange County areas of Southern California. He holds a Doctorate in Psychology from University College London as well as an M.Div. from Claremont School of Theology. He continues to be very active in both Zen and Christian practice, and remains passionate about the parallels between Buddha's teachings and the Wisdom teachings of Jesus. He is currently the head priest at a liberal, inclusive independent Catholic Church in Hollywood, CA, and is in process of becoming abbot of a new Five Mountain Zen Order community he is currently establishing at the same location, known simply as Still Center. Rev. Songdo is a teacher and an author, and maintains various websites and blogs such as
www.christbuddha.org
,
www.stillcenter.org
and
www.kids-rights.org
.
---
---
Ven. Go'son Prajna
Thích Hiền Côtòng

Ven. Go'san was granted authority as a Hwasangnim in the Five Mountain Zen Order in April 2017. He began studying with Ven. Dr. Wonji when the two of them were living in Las Vegas in 2012. On the 16th day of April in the year 2016, Michael Ford (Original Name), Go'son Prajna 成道智 Buddhist Name), Solitary Pine of Wisdom (Translation), Thích Hiền Côtòng took Brahmajala Precepts at Danhwa Soenwon as a Pujari—Priest in the Five Mountain Zen Order.

After finishing his enlistment in the military, Ven. Go'son took a class on Zen Buddhism at the University of California at Los Angeles where he met his first Zen Master Thich Thien An who was teaching the class he was taking. Ven. Go'son, being intrigued by the practice of meditation eventually was ordained in the White Plum Asanga at the Zen Center of Los Angeles where he studied Soto Zen Buddhism for 20 years. While working in Las Vegas he discovered Buddha Dharma University which led to his ordination in the Five Mountain Zen Order.

He has recently been studying Zongmi and "The Avatamsaka Sutra". Touched by Dogen's "Uji" and Linji's shout. Br. Go'son lives with his wife, daughter and pet dog in Los Angeles, CA.

​
---