Śrāmaṇera / Śrāmaṇerī - Novitiates
The Śrāmaṇera/Śrāmaṇeri, novitiate, is the preliminary stage one must pass through before becoming a fully ordained monk (bhikṣu/bhikṣuṇī). The novitiate must demonstrate the acumen and the right commitment for a lifelong dedication to Zen practice, then, with the approval of his or her Guiding Teacher, the novitiate receives sixteen precepts at a formal precepts ceremony. Novitiates work under the guidance of a teacher for a period of two years wherein the novitiates continue their practice and formation. At the end of the two year period the novitiate will either proceed to higher ordination as a bhiksu/bhikṣuṇī, renew his or her precepts in a formal ceremony for continued novitiate training, or revert to lay status and precepts. Five Mountain Zen novitiates wear a spring green bangasa over long ceremonial grey robes, while novitiates of the United Buddhist Church wear a three panel yellow kesa over long ceremonial grey robes.
---
Br. Wonmin Prajñā
Brother Wonmin Prajñā was first introduced to Buddhism in college in the late 1990's. With no concrete career plans he moved to Asia, and for seven years bounced between Taiwan and China as a teacher. During this time he was able to witness many types of Buddhism in action: from grandiose architectural wonders teaming with monks and tourists; to isolated hill-top temples with a single care-taker monk in old peasant clothing--indistinguishable from anyone else in the mountain top community. It was during this time that he began practicing rather than reading about Buddhism, under the direction of the Lotus Temple in Mianyang, Sichuan.

After earning an MA in Religious Studies, from Stanford University, focusing on Eastern religions, he spent a few more years in China, before joining the Navy as a Hospital Corpsman. He began further study at Buddha Dharma University while in the Navy and began serving as his ship's Buddhist Lay leader over their first deployment. On November 1, 2014 he received vows as a Śrāmaṇera with the Five Mountain Zen Order and is working on putting in a formal package as a Navy Chaplain.

He is interested in the role Daoism played in the development of Zen Buddhist thought and the practical applications of meditation in stress and anger management. He is currently under the guidance of Ven. Wonji Dharma.
---
---
Sr. Cheolshim Prajñā
Sister Cheolshim Prajñā first became interested in Eastern religious practice in the late 1980's when she trained in Indonesian style Shaolin-Do Kung Fu under Grand Master Sin Thé. In 2004, she earned a Yoga teacher training certification from the White Lotus Foundation in Santa Barbara, California, under the tutelage of Ganga White, and broadened her knowledge of Yogic philosophy. She spent 1997-2006 as an active duty Army service member. Her time spent in Asia during the military sparked a deeper interest in Buddhism and inspired self-study for many years until her path led to the Five Mountain Zen Order.

Sister Prajñā is a professor of transpersonal psychology in Tempe, Arizona, at a small Christian University, and she studies mystical experience and non-ordinary states of consciousness. She loves nature and spends her free time hiking, staring at trees, mountains, lizards, ants, and listening to bird sounds. She especially loves dogs and poetry.
---
---
Br. Cheolsoeng Prajñā
Br. Cheolsoeng Prajñā (Thích Hiền Tính; aka Douglas Gentile) first became interested in Zen Buddhism when he was 8, watching the show Kung Fu with David Carradine. He grew up to become a developmental research psychologist who studies how television and the media influence children. Apparently he should have conducted the research on himself.
​
His path to FMZO has been long and varied, studying several different styles of Buddhism over the years. He completed the Secular Buddhist Studies certificate at the multi-lineage Interdependence Project in New York City, as well as their meditation teacher training program. He studied personally with Ethan Nichtern, a senior teacher in the Shambhala lineage, and is now studying with Most Ven. Wonji Dharma.

He resides in Ames, Iowa with his wife, daughters, and rabbit named Nutmeg. He is one of the leaders of the Mindfulness and Meditation group at the Unitarian Universalist Fellowship of Ames. If you are ever near on a Sunday evening, he invites you to drop in.
---
---
Br. Songan Prajñā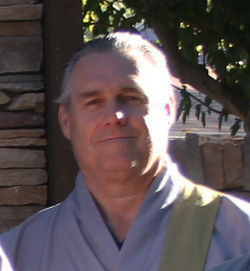 Bio forthcoming
---
---
Sr. Anwol Devadipa
Sister Anwol Devadipa (Mary Ann Marston) explored many spiritual practices during her life. In 2009 she joined the Shinnyo-en Buddhist Temple in White Plains, NY and studied there until she moved to Central New York state in 2013.

She found the Lotus Heart Zen sangha in 2015 in Oneida, NY, where she quickly became an active and devoted member. In October of 2015 she received Anagāriya precepts, and honored her vows through tireless effort and assistance to the sangha. On June 4, 2016 she received vows as a Śrāmaṇerī with the Five Mountain Zen Order. She currently serves as the Communications Director for Lotus Heart Zen.

Sister Anwol is a native of New Jersey and a retired geriatric nurse. She spent 10 years with the American Red Cross as a Disaster Services Co-Ordinator traveling througout the United States helping attend to the needs of those in need. She was at ground zero, following the terrorist attack at the World Trade Center in 2001, coordinating relief efforts.

She now lives in Sherril, NY with her husband, Robert. Sister Anwol is currently under the guidance of Ven. Do'an Prajñā.


---