Bhikșus / Monks
Full ordination entails a lifetime commitment to these vows. Monastic candidates need to personally embrace these vows, investigating their internal motivations and possible limitations within the guidelines that the vows provide. Monks make the ultimate visible commitment to the teacher, the dharma and practices of the Mahasangha. This position signifies that they are a senior elder having fulfilled the additional requirements of passing the Advanced Seminary program for Monastics. Monks have the additional responsibility to perform some of the advance Buddhist ceremonies, and are encouraged to enter the service of the community in an interactive role.
---
Rev. Boepmin Prajna
​Thích Pháp Mẫn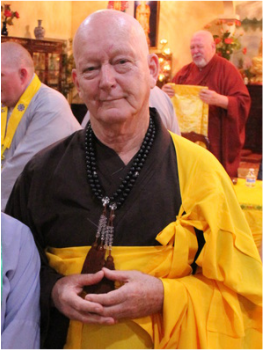 After running six decades, on a parallel course, a decade ago I found my home. Not knowing what to call what I believed in, I named it (Humanistic Existentialism) for lack of a better name. The journey in to Buddhism in the last decade has been a perfect fit, as though I have always been here. With the hands and skilled of a gifted craftsman, I am able to do many things. Through my life I have always counseled young people and still do. With my recent ordination this has taken on a whole new meaning.

For the last 5 years I have been under the guidance of Venerable Khai Thiem, Abbot of White Sands Buddhist Center in Mims Florida, and recently under Venerable Wonji Dharma at the Five Mountain Zen Order. I am currently working towards receive full ordination in the future.
​
"May you be happy and well!"
---
---
Rev. Yongak Prajna
Thích Hiền Giác​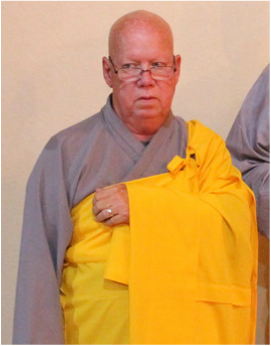 Brother Yongak Prajna (John Michael Christopher) has spent his lifetime journey plodding through many spiritual practices. Always finding truth to be allusive, always believing it was but a tad further up the road. Until the realization it is but a tad more inward. He describes a indefinable clarity at birth and until age six. After age six he began entering the conceptual world where clarity was obscured. He was raised up in the Congregational Christian Church (Christened) and Society of Friends as a small child, attended Roman Catholic Kindergarten and first grade at Friends Select. He later wandered through many denominations, the most meaningful being the Mennonite Church. Over the years he was a lay youth minister, Sunday School Teacher and Bus Pastor. Intertwining with these stops on his journey were non-Christian forays which brought deeper insights into the words of Jesus and Christian Mystics…During a mediation experience he was simply directed to take a path to other religions. During his thirties he took the Bodhisattva vows, though without ceremony. Yongak credits the works and words of Paramahansa Yoganada, St. Chrysostom, Abdul Baha, The Dalai Lama, Patrul Rinpoche, Alan Watts, and many others numerous to list, to a path toward awakening. Important as well were two little books he found in his twenties in a flea market Vols. I and II of A Search for God, published in 1942 by Reverend Edgar Cayce.
​
His practices has been primarily Lam Rim and Vissapanna solo retreats, most of his sitting or walking has been self-directed. Yongak's primary and present teacher Ven. Dr. Wonji Dharma pointed out that awakening comes from through the intersection of introspection of insight. On October 24th of 2015, he took Novice vows publicly at True Nature Sangha in Bar Harbor Maine. Br. Yongak presently lives in Butner/Creedmoor, North Carolina with his wife Teresa and dog Max. His describes his direction as that of a simple monk of kindness who seeks to help others to get unstuck and move on to their awakened nature.
---
Rev. Cheolsoeng Prajñā (Viet: Thích Hiền Tính) first became interested in Zen Buddhism when he was 8, watching the show Kung Fu with David Carradine. He grew up to become a developmental research psychologist who studies how television and the media influence children. Apparently he should have conducted the research on himself.
​
An ordained Zen monk in the Five Mountain Zen Order, he has studied several styles of Buddhism. He completed the Secular Buddhist Studies certificate at the multi-lineage Interdependence Project in New York City, as well as their meditation teacher training program. He studied personally with Ethan Nichtern, a senior teacher in the Shambhala lineage, and is currently under the guidance of Most Ven. Wonji Dharma.
He resides in Ames, Iowa with his wife, daughters, and rabbit named Nutmeg. He is one of the leaders of the
Mindfulness and Meditation
group at the Unitarian Universalist Fellowship of Ames. If you are ever near on a Sunday evening, he invites you to drop in.
---

Rev. Cheolmin Prajna was appointed as Abbot of Hagu Soen Won (Bayou Zen Center) by The Most Ven. Dr. Wonji Dharma in July of 2017 and is working under his direction to establish a newly forming Zen Community in Shreveport, LA. Rev. Cheolmin is currently enrolled in Buddha Dharma University, and is currently working towards his M.Div. (Master of Divinity) in Buddhist Ministry.

​Prior to beginning his studies with Buddha Dharma University Rev. Cheolmin became interested in Zen Buddhism through the practice of Aikido whilst training under Dojo Cho Sensei William Ross and Assistant Instructor Sensei Eric Fountain at Aikido of Shreveport in Shreveport, LA with whom he has presently resumed training. For a brief period of time he also trained in Wu Style Tai Chi Chuan and Fu Style Dragon Shape Pa Kua, respectively, under the instruction of Master Glenn Guerin and Sifu Greg Guerin of Lee's Kung Fu and Tai Chi in Shreveport, LA. Rev. Cheolmin also served in the U.S. Marine Corps prior to his involvement with the Five Mountain Zen Order. He currently lives in Shreveport, LA with his young son T.J.

---