---
Five Mountain Zen Order - Circle of Teachers

A Zen Teacher) is a senior member who, having received Inga, presides over one or more congregations. This position includes some supervisory responsibilities over both congregations and leaders in that region. A Teacher serves as a guide and instructor in religious matters; and is often the founder and leader of his or her congregations.
---
---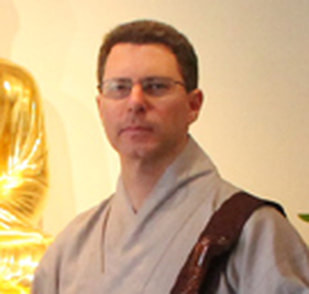 Domun Prajna, is both a Teacher and Brahmajala Priest in the Five Mountain Zen Order. He began training with Ven. Wonji Dharma in early 2004 at the Ocean Eyes Zen Center in Long Beach.
Domun was interested in the Buddha and meditation from an early age. Interest turned into meditation practice in the early '90s, starting 5 thought-filled minutes at a time. He briefly visited a few different meditation centers. However, a life Koan became "If the Buddha was able to attain enlightenment without belonging to a Sangha, why can't I?"
He continued his personal practice of sitting along with reading the books of Seung Sahn. In 2004, he met Abp. Wonji Dharma at the Golden Wind Zen Center. Not yet ready to join a Sangha, he worked on and off with Abp. Wonji. In 2010, he added to his meditation practice intensive Kong'an practice with Abp. Wonji. This Koan practice turned out to be the missing ingredient, and his personal Koan was answered in January of 2012 when Domun received inka as was thus consecrated a Bishop in the Five Mountain Zen Order.
He now wishes to share the benefits of Zen and Koan practice with others. Domun writes the Zen Blog -
Mind Makes Everything
and has written one book:
---
---
Ven. Dr. Minshim Prajñā
Thích Hiẽn Mẫn
---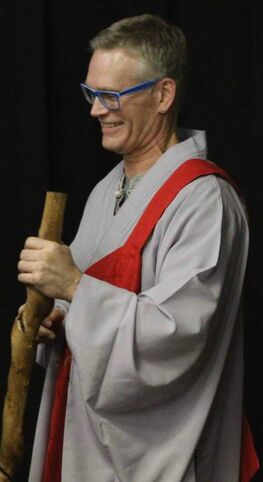 Ven. Minshim Prajñā (Dr. Neal J. Sivula) became interested in Buddhism through his training as a Veterinary Acupuncturist. He is a Veterinarian and a fully ordained Priest in the Five Mountain Zen Order. He received Inga (full teaching authority) on July 27, 2019 from Most Ven. Dr. Wonji Dharma.

Ven. Minshim has a Doctor of Veterinary Medicine degree, a Ph.D. in Veterinary Medicine, as well as a M.Div. in Buddhist Ministry from Buddha Dharma University. He continues to engage in regular study with Most Ven. Dr. Wonji Dharma.
​
He is passionate about bringing Buddhist traditions into the lives of interested practitioners from every walk of life. He also practices Holistic Veterinary Medicine in Richfield, Ohio and shares his home with his wife and a myriad of cats and dogs. He teaches continuing education courses for Veterinarians on both Holistic Medicine and Practitioner Wellness topics.
---
---
---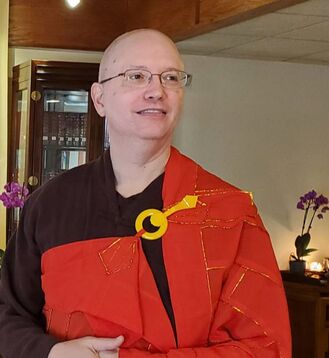 Ven. Dr. Cheolsoeng Prajñā (Viet: Thích Hiền Tính) is a Bhikṣu monk and authorized Zen teacher with the Five Mountain Zen Order. He first became interested in Chan Buddhism when he was about 8, watching the show Kung Fu with David Carradine. He grew up to become a developmental research psychologist who studies how television and the media influence children. Apparently he should have conducted the research on himself.
Ven. Cheolsoeng is the author of
Buddhism 101: How to Walk Easily over Rough Ground
and
Meditation: The Busy Person's Guide to Cultivating Compassion and Positive Mind States
. He resides in Ames, Iowa, where he is one of the leaders of the
Mindfulness and Meditation
group at the Unitarian Universalist Fellowship of Ames. If you are ever near on a Sunday evening, he invites you to drop in.
​
Ven. Cheolsoeng holds a Ph.D. in child psychology, an M.Div in Buddhist ministry, and completed the Secular Buddhist Studies certificate at the multi-lineage Interdependence Project in New York City, as well as their meditation teacher training program. He studied with Ethan Nichtern, a senior teacher in the Shambhala lineage, and Most Ven. Wonji Dharma.
---
---
Teachers on Extended Sabbatical
---
Ven. Do'an Dharma
Thích Đức Thức

---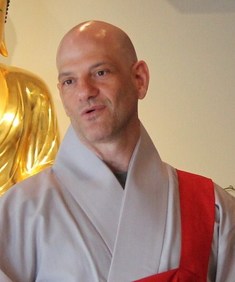 Do'an Dharma is an authorized Zen teacher and Buddhist monk. He was ordained in the Korean Zen tradition as represented by the Five Mountain Zen Order as well as the Vietnamese lineage of Ven. Dr. Thich Thien-An. In addition, Do'an received authorization as a dharma teacher from the
Interdependence Project
where he now serves as a senior teacher, and holds a certificate in Foundations in Buddhist Chaplaincy from the New York Zen Center for Contemplative Care. As part of his chaplaincy training he offered spiritual care and support to terminally ill patients in a hospice residence.
In 1985 he co-founded Long Island Gay and Lesbian Youth (LIGALY) which he facilitated until 1991, and was a counselor with the Long Island Crisis Center for close to a decade. In conjunction with the Lineage Project, Bp. Do'an taught meditation to at-risk and incarcerated teenagers.
Do'an writes for The Interdependence Project and currently works with individuals and couples as a
life coach
and
wedding officiant
.
---