Pūjārī - Priests
---
Rev. Jinji Sunya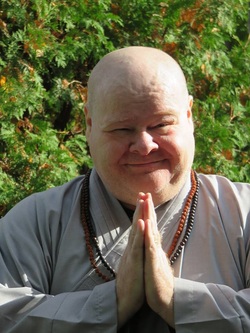 Rev. Jinji Sunya holds a Master's Degree in Buddhist Doctrine and was fully ordained in March of 2014.

He has worked as a teacher at the community college level and in adult education, serving at a downtown homeless shelter. Formerly a freelance music/film writer, Rev. Jinji is a painter and striving novelist.

He hopes that his chronic illness will allow him to soon be of service to the homeless, veterans, and in sustainable urban food strategies. Or at least get him out of the house more often. He lives in Rhode Island with his wife, his cats, homemade musical instruments and (never) too many birds.

Rev. Jinji continues his monastic formation weekly under the guidance of Ven. Dr. Sunyananda Dharma. 
---
---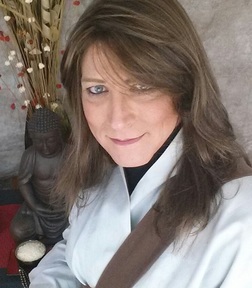 Rev. Jinkong Prajna, MPPA lives in the Kansas City area with her sweet little Silky Terrier, "Shyla". She was ordained a Zen Priest in the Korean Son lineage by Myogak, JDPSN at the True Nature Zen Center Retreat on October 21, 2012. Now ordained with the Five Mountain Order, she teaches meditation, relaxation, and mindfulness, as well as offering support and spiritual guidance on an individual basis, though she intends to form a formal sangha. She is a strong human rights advocate and also hopes to be of service to the LGBT community.

Feeling the effects of a lack of spiritual development growing up, Rev. Jinkong explored many religious orders before entering the Buddhist path in 2005, under the guidance of Lama Chuck Stanford at the Rime Buddhist Center in Kansas City. As she learned more and explored other Buddhist forms, she found that she realized greater benefit from Zen Buddhism and became an independent Zen practitioner. After a period of self-instruction, she became a student at the Prajna Institute for Buddhist Studies and trained with Myogak, JDPSN. During this period, she also practiced Rinzai Zen with Seido Ronci, an ordained monk of the Rinzai-Ji lineage. Rev. Jinkong joined the Five Mountain Order in 2015 and will be finishing her Master's Degree at Buddha Dharma University under the guidance of Ven. Wonji Dharma.

Rev. Jinkong holds a Master of Public Policy and Administration degree from Northwestern University and a Bachelor of Science in Industrial/Organizational Psychology from Northwest Missouri State University. She has also completed half of a Master of Arts in Mental Health Counseling and has conducted extensive independent study of the psychology of personality and behavior. She has been a corporate General Manager for the past 15 years and has recently begun work as a freelance copywriter and consultant. She is also Managing Member of Mandala Institute LLC, an independent organization dedicated to the promotion of human rights and a more compassionate society.


---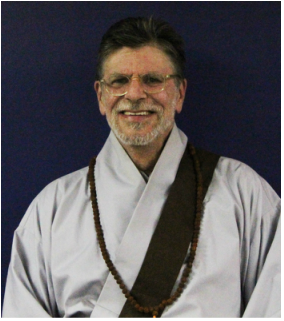 Rev.
Eunsahn Citta received lay ordination in 2009 from the San Francisco Zen Center, when he renewed the precepts in November 2013 from the Five Mountain Zen Order, his teacher gave him the name
Eunsahn
, which is the Korean translation of his name in Japanese where he is currently a Priest.
Prior to finding OMZS in April 2012,
Eunsahn
was involved with the Elberon Zen Circle in NJ, where he served as Ino. Practicing in different Zen schools has been an eye-opening experience, showing the need to "put it all down," including all attachments, even to Zen.
Eunsahn
writes the
No-Bodhi Knows
blog and is a moderator for the Zen Buddhism & Buddhism Q&A Google+ communities.
---
---
Rev. Wonmin Prajñā
Thích Hiền Nguyên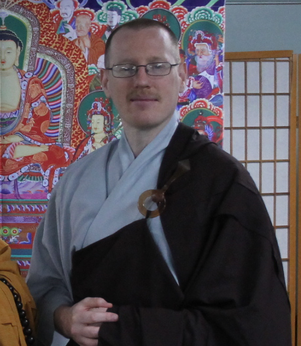 Brother Wonmin Prajñā was first introduced to Buddhism in college in the late 1990's. With no concrete career plans he moved to Asia, and for seven years bounced between Taiwan and China as a teacher. During this time he was able to witness many types of Buddhism in action: from grandiose architectural wonders teaming with monks and tourists; to isolated hill-top temples with a single care-taker monk in old peasant clothing--indistinguishable from anyone else in the mountain top community. It was during this time that he began practicing rather than reading about Buddhism, under the direction of the Lotus Temple in Mianyang, Sichuan.

After earning an MA in Religious Studies, from Stanford University, focusing on Eastern religions, he spent a few more years in China, before joining the Navy as a Hospital Corpsman. He began further study at Buddha Dharma University while in the Navy and began serving as his ship's Buddhist Lay leader over their first deployment. On November 1, 2014 he received vows as a Śrāmaṇera with the Five Mountain Zen Order and is working on putting in a formal package as a Navy Chaplain.

He is interested in the role Daoism played in the development of Zen Buddhist thought and the practical applications of meditation in stress and anger management. He is currently under the guidance of Ven. Wonji Dharma.
---
---
Rev. Anwol Devadipa
Thích Đạo Nguyệt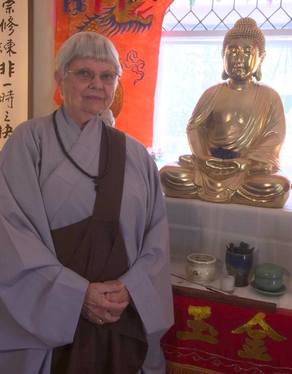 Rev. Anwol Devadipa (Mary Ann Marston) explored many spiritual practices during her life. In 2009 she joined the Shinnyo-en Buddhist Temple in White Plains, NY and studied there until she moved to Central New York state in 2013.

She found the Lotus Heart Zen sangha in 2015 in Oneida, NY, where she quickly became an active and devoted member. In October of 2015 she received Anagāriya precepts, and honored her vows through tireless effort and assistance to the sangha. On June 4, 2016 she received vows as a Śrāmaṇerī with the Five Mountain Zen Order, and received full ordination on July 15, 2017. She currently is Abbot and serves as the Communications Director for Lotus Heart Zen.

Rev. Anwol is a native of New Jersey and a retired geriatric nurse. She spent 10 years with the American Red Cross as a Disaster Services Co-Ordinator traveling througout the United States helping attend to the needs of those in need. She was at ground zero, following the terrorist attack at the World Trade Center in 2001, coordinating relief efforts.

She now lives in Sherril, NY with her husband, Robert. Rev. Anwol is currently under the guidance of Ven. Do'an Prajñā.
---
Rev. Mu Sang Prajñā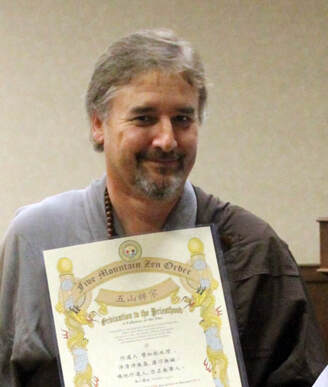 Rev. Mu Sang Prajna (Phillip A. J. Hodgson) holds a Master's Degree in Buddhist Divinity and was ordained in Oneida, New York State by the Ven. Dr. Wonji Dharma. Prior to his joining the Five Mountain Zen Order family in 2014, he practiced Korean Zen in Newmarket, Ontario under Zen Master Mu Chak and in downtown Toronto at the Awakened Meditation Centre with Grand Zen Master Yangil Sunim. He now works as a Registered Psychotherapist north of Toronto in Canada, working with the homeless and people with mental health and substance use challenges. Prior to becoming a therapist, he worked as a Librarian in the England promoting free access to education for all.

​He lives a simple life in Aurora, Ontario with his wife, two children (his teachers) and his dog, following the principles of the Buddha's teachings. Rev. Mu Sang actively continues his monastic practice under the respected guidance of Ven. Dr. Wonji Dharma.
---
Rev. Dr. Minshim Prajñā
Thích Hiẽn Mẫn
Rev. Dr. Neal J. Sivula (Minshim Prajñā) is a fully ordained Priest in the Five Mountain Zen Order. He received Inga (full teaching authority) on July 27, 2019 from Ven. Dr. Wonji Dharma.

Rev. Dr. Neal is passionate about bringing Buddhist traditions into the lives of interested practitioners from every walk of life. He continues to engage in regular study with Ven. Dr. Wonji Dharma. Rev. Dr. Neal is a Veterinarian with a holistic practice located in Richfield, Ohio (Dancing Paws Animal Wellness Center). He attended The Ohio State University, earning his Doctor of Veterinary Medicine degree. He completed a clinical internship, residency in Internal Medicine, and PhD in Veterinary Medicine/Epidemiology from the University of Minnesota. He has post-graduate training in veterinary chiropractic, acupuncture, and herbal medicine and has an Advanced Certification in Acupuncture from the American Academy of Veterinary Medicine (FAAVA). In addition, he holds a M.Div. in Buddhist Ministry from Buddha Dharma University.

e teaches continuing education courses for Veterinarians both domestically and internationally and has authored a number of publications in holistic medicine. He is currently the President of the American Holistic Veterinary Medical Association.
---
Rev. Jeonchan Prajñā
Bio forthcoming.
---