Pujari - Priests
---
Rev. Jinji Sunya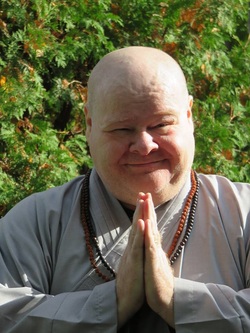 Rev. Jinji Sunya holds a Master's Degree in Buddhist Doctrine and was fully ordained in March of 2014.

He has worked as a teacher at the community college level and in adult education, serving at a downtown homeless shelter. Formerly a freelance music/film writer, Rev. Jinji is a painter and striving novelist.

He hopes that his chronic illness will allow him to soon be of service to the homeless, veterans, and in sustainable urban food strategies. Or at least get him out of the house more often. He lives in Rhode Island with his wife, his cats, homemade musical instruments and (never) too many birds.

Rev. Jinji continues his monastic formation weekly under the guidance of Ven. Dr. Sunyananda Dharma. 
---
---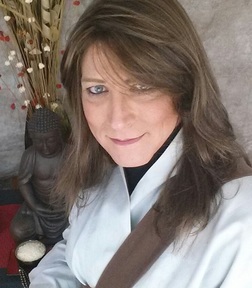 Rev. Jinkong Prajna, MPPA lives in the Kansas City area with her sweet little Silky Terrier, "Shyla". She was ordained a Zen Priest in the Korean Son lineage by Myogak, JDPSN at the True Nature Zen Center Retreat on October 21, 2012. Now ordained with the Five Mountain Order, she teaches meditation, relaxation, and mindfulness, as well as offering support and spiritual guidance on an individual basis, though she intends to form a formal sangha. She is a strong human rights advocate and also hopes to be of service to the LGBT community.

Feeling the effects of a lack of spiritual development growing up, Rev. Jinkong explored many religious orders before entering the Buddhist path in 2005, under the guidance of Lama Chuck Stanford at the Rime Buddhist Center in Kansas City. As she learned more and explored other Buddhist forms, she found that she realized greater benefit from Zen Buddhism and became an independent Zen practitioner. After a period of self-instruction, she became a student at the Prajna Institute for Buddhist Studies and trained with Myogak, JDPSN. During this period, she also practiced Rinzai Zen with Seido Ronci, an ordained monk of the Rinzai-Ji lineage. Rev. Jinkong joined the Five Mountain Order in 2015 and will be finishing her Master's Degree at Buddha Dharma University under the guidance of Ven. Wonji Dharma.

Rev. Jinkong holds a Master of Public Policy and Administration degree from Northwestern University and a Bachelor of Science in Industrial/Organizational Psychology from Northwest Missouri State University. She has also completed half of a Master of Arts in Mental Health Counseling and has conducted extensive independent study of the psychology of personality and behavior. She has been a corporate General Manager for the past 15 years and has recently begun work as a freelance copywriter and consultant. She is also Managing Member of Mandala Institute LLC, an independent organization dedicated to the promotion of human rights and a more compassionate society.


---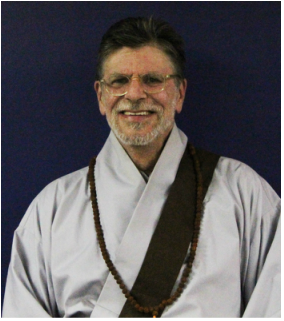 Rev.
Eunsahn Citta received lay ordination in 2009 from the San Francisco Zen Center, when he renewed the precepts in November 2013 from the Five Mountain Zen Order, his teacher gave him the name
Eunsahn
, which is the Korean translation of his name in Japanese where he is currently a Priest.
Prior to finding OMZS in April 2012,
Eunsahn
was involved with the Elberon Zen Circle in NJ, where he served as Ino. Practicing in different Zen schools has been an eye-opening experience, showing the need to "put it all down," including all attachments, even to Zen.
Eunsahn
writes the
No-Bodhi Knows
blog and is a moderator for the Zen Buddhism & Buddhism Q&A Google+ communities.
---
---
Rev. Umboep Citta
Rev. Umboep Citta is an ordained priest with Five Mountain Zen Order and currently studies with Ven. Doshim Dharma in New Jersey.

Eunsahn had been practicing for four years with another teacher Ani Trime who studied with Trungpa Rinpoche, and her current teacher Anam Thubten is an ordained nun for 20 years and has over 40 experiences studying and teaching. Eunsahn feels that through practice is a great way to develop a deeper understanding of "Mind" and hopefully a way to give back to the Buddhist community.
---
---
Rev. Hyeonjeong Citta
Rev. Hyeonjeong Citta has practiced Zen Buddhism for the past several years and felt ready to move forward by learning the aspects to Zen in order to strengthen his practice. Rev. Hyeonjeong engaged in a student/teacher relationship with his teacher Bishop Doshim Dharma and enrolled in Buddha Dharma University. Through his commitment to kongàn study and his education towards ordination, he has come to realize the efficacy of being in this world to help others.

Rev. Hyeonjeong is also a filmmaker and a poet hopes to have his practice and his craft be integrated in his life.
---
---
Reverend Nima Sunyananda (aka Thich Nu Tam Duong aka Venerable Urgyen Nima) has been studying and practicing Buddhism since her first silent retreat with Mahindra at the Burmese Vihara in Bodh Gaya, India, in 1978. Her practice intensified in 1999 when she met Lama Surya Das, who has been her teacher for the last sixteen years. She is now a senior student and assistant teacher in his lineage. In 2013, she took her novice monastic vows.

In 2008, Nima was fortunate to begin full-time work at Unity Temple in Kansas City, Missouri, where she founded the Temple Buddhist Center, an organization to support and encourage the practice of Buddhism in all its magnificent diversity. The Temple has grown to two services on Sunday with about 200 people attending each weekend, and more than 15 individual groups and classes that meet each week.

Three years ago, Nima, along with Rev. Duke Tufty, founded Serenity Pause, a secular meditation program. She teaches Serenity Pause in prisons, cancer care facilities, corporations and halfway houses. At the Temple, there are two 30-minute Serenity Pause meditations, 365 days a year.

Five years ago, she met a young man who wanted to start a "Zen Without Walls" group at the Temple. She was amazed at his insight and wisdom. She later asked Venerable Sunyananda to be her teacher and has thoroughly enjoyed her study and practice with his group. On June 13, 2015, she took her full monastic vows with Venerable Sunyananda. "What a wild, fun ride it's been!" says Rev. Nima.


---
---
Rev. Thich Tam Bi
Jungmin Prajna
Raised in a rural Kansas Brother Thich Tam Bi had little exposure to Buddhism until his teenage years when he first experienced meditation though training at a Korean martial arts school. With very little in the way of resources or people to learn more from, Br. Tam Bi turned to the internet to guide him in his practice, and to the roots of his new found passion of Buddhism. None-the-less, because of the lack of a local Buddhist congregation, and/or teachers the internet remained his only access to the teachings of the Buddha.

As a young adult, Rev. Tam Bi relocated to the nearest metropolitan area, that of Kansas City Missouri where he made contact with the Refuge Sangha, a practice group under the auspices of the United Buddhist Church, and FMZO. After practicing with the local Sangha for some time, and engaging a formal student-teacher relationship with a Buddhist Master, Br. Tam Bi eventually ordained as a novice monk at the Mount Baldy Zen Center in California.

Before accepting his novice vows, Br. Tam Bi had a short but successful career in the non-profit sector working with several organizations to provide aid for people in need, a step on his path that would enable him to purchase a home outright. After his ordination, he quickly took to work converting his home to a residential temple for his teacher, and fellow monks in the Kansas City area, which would eventually be consecrated as "Chùa Pháp Ấn" or "Dharma Seal Abbey" (frequently referred to as "the Abbey"). Br. Tam Bi continues his work on "the Abbey" and his practice and study of Buddhism, he has a particular interest in the history of monastic living and the practical history of monastic life, studying these things as well as practicing them daily through gardening, his many projects at the Abbey and beyond.
---
---
Rev. Dr. Songdo Prajna is originally from Oxford, England, and has resided in the Pasadena area of Southern California since around 1990. He is ordained as a Brahmajala Priest with Five Mountain Zen Order. He has been practicing Zen since his late teens, having been introduced to Zen through the writings of the likes of Alan Watts, DT Suzuki and Christmas Humphries, and the teaching of the British Zen Master Douglas Harding. Additionally, he has maintained a parallel practice in the Christian faith, becoming a Third Order Franciscan when he was in his early 20s. Growing up as an Anglican, he transferred to the Episcopal faith in 1990, and then eventually became ordained as an Ecumenical (independent from Rome, liberal) Catholic Priest. Further, he also took precepts in the Soto Zen lineage of Maezumi Roshi (White Plum Sangha), receiving the Dharma name Tetsudo at the Zen Center of Los Angeles which he first attended in 1973. He is married with two children, a daughter who is an Episcopal Priest and a son who is a specialist in both medieval and modern literature. His wife is a university professor of English, a Sufi and an author of various books on poetry.
Rev. Songdo is a Board Certified Palliative, Hospice and Pediatric Chaplain, being certified both as a Christian and Buddhist chaplain; he ministers to patients in the greater Los Angeles and Orange County areas of Southern California. He holds a Doctorate in Psychology from University College London as well as an M.Div. from Claremont School of Theology. He continues to be very active in both Zen and Christian practice, and remains passionate about the parallels between Buddha's teachings and the Wisdom teachings of Jesus. He is currently the head priest at a liberal, inclusive independent Catholic Church in Hollywood, CA, and is in process of becoming abbot of a new Five Mountain Zen Order community he is currently establishing at the same location, known simply as Still Center. Rev. Songdo is a teacher and an author, and maintains various websites and blogs such as
www.christbuddha.org
,
www.stillcenter.org
and
www.kids-rights.org
.
---
---
Rev. Go'son Prajna
After finishing his enlistment in the military, Rev. Go'son took a class on Zen Buddhism at the University of California at Los Angeles where he met his first Zen Master Thich Thien An who was teaching the class he was taking. Brother Go'son, being intrigued by the practice of meditation eventually was ordained in the White Plum Asanga at the Zen Center of Los Angeles where he studied Soto Zen Buddhism for 20 years. While working in Las Vegas he discovered Buddha Dharma University which led to his ordination in the Five Mountain Zen Order.

He has recently been studying Zongmi and "The Avatamsaka Sutra". Touched by Dogen's "Uji" and Linji's shout. Br. Go'son lives with his wife, daughter and pet dog in Los Angeles, CA.
---
---
Rev. Ryongwan Karuna
Brother Rongwan Karuna was ordained as a sramanera at Kwan Um Sa in Danville, Illinois on December 13, 2014. He lives in Evansville, IN and is an Assistant Professor in the School of Social Work at the University of Southern Indiana in Evansville. He is a licensed clinical social worker (LCSW), a licensed clinical addiction counselor (LCAC), a member of the National Association of Social Workers (NASW), and is recognized as a member of the Academy of Certified Social Workers (ACSW) by NASW. He currently serves as a representative on the Board of Directors for the Indiana Chapter of NASW. His work is primarily with adults addressing mental health and addiction issues. Additionally, he works part-time at an outpatient therapy practice in Evansville called Within Sight.

His first exposure to meditation and eastern philosophy in general, and the teachings of the Buddha specifically, came in 1991 when he started studying martial arts. Over the years he has had the opportunity to study with several different groups in a variety of approaches, including Japanese Tendai, Tibetan Kagyu, and most recently insight meditation approaches with a local group. He sits with the Mindful Heart Buddha Sangha, leading sittings, giving talks, assisting with introductory workshops and retreats. He is currently enrolled at Buddha Dharma University.
---