Pujari - Priests
---
Rev. Jinji Sunya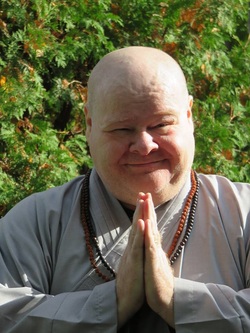 Rev. Jinji Sunya holds a Master's Degree in Buddhist Doctrine and was fully ordained in March of 2014.

He has worked as a teacher at the community college level and in adult education, serving at a downtown homeless shelter. Formerly a freelance music/film writer, Rev. Jinji is a painter and striving novelist.

He hopes that his chronic illness will allow him to soon be of service to the homeless, veterans, and in sustainable urban food strategies. Or at least get him out of the house more often. He lives in Rhode Island with his wife, his cats, homemade musical instruments and (never) too many birds.

Rev. Jinji continues his monastic formation weekly under the guidance of Ven. Dr. Sunyananda Dharma. 
---
---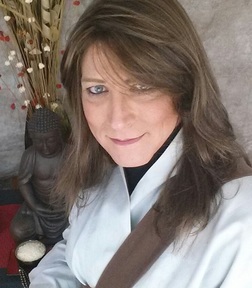 Rev. Jinkong Prajna, MPPA lives in the Kansas City area with her sweet little Silky Terrier, "Shyla". She was ordained a Zen Priest in the Korean Son lineage by Myogak, JDPSN at the True Nature Zen Center Retreat on October 21, 2012. Now ordained with the Five Mountain Order, she teaches meditation, relaxation, and mindfulness, as well as offering support and spiritual guidance on an individual basis, though she intends to form a formal sangha. She is a strong human rights advocate and also hopes to be of service to the LGBT community.

Feeling the effects of a lack of spiritual development growing up, Rev. Jinkong explored many religious orders before entering the Buddhist path in 2005, under the guidance of Lama Chuck Stanford at the Rime Buddhist Center in Kansas City. As she learned more and explored other Buddhist forms, she found that she realized greater benefit from Zen Buddhism and became an independent Zen practitioner. After a period of self-instruction, she became a student at the Prajna Institute for Buddhist Studies and trained with Myogak, JDPSN. During this period, she also practiced Rinzai Zen with Seido Ronci, an ordained monk of the Rinzai-Ji lineage. Rev. Jinkong joined the Five Mountain Order in 2015 and will be finishing her Master's Degree at Buddha Dharma University under the guidance of Ven. Wonji Dharma.

Rev. Jinkong holds a Master of Public Policy and Administration degree from Northwestern University and a Bachelor of Science in Industrial/Organizational Psychology from Northwest Missouri State University. She has also completed half of a Master of Arts in Mental Health Counseling and has conducted extensive independent study of the psychology of personality and behavior. She has been a corporate General Manager for the past 15 years and has recently begun work as a freelance copywriter and consultant. She is also Managing Member of Mandala Institute LLC, an independent organization dedicated to the promotion of human rights and a more compassionate society.


---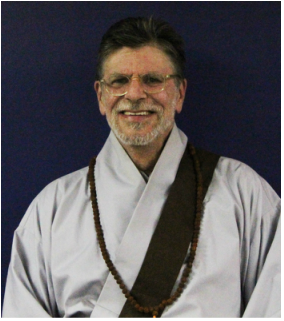 Rev.
Eunsahn Citta received lay ordination in 2009 from the San Francisco Zen Center, when he renewed the precepts in November 2013 from the Five Mountain Zen Order, his teacher gave him the name
Eunsahn
, which is the Korean translation of his name in Japanese where he is currently a Priest.
Prior to finding OMZS in April 2012,
Eunsahn
was involved with the Elberon Zen Circle in NJ, where he served as Ino. Practicing in different Zen schools has been an eye-opening experience, showing the need to "put it all down," including all attachments, even to Zen.
Eunsahn
writes the
No-Bodhi Knows
blog and is a moderator for the Zen Buddhism & Buddhism Q&A Google+ communities.
---
---
Rev. Thich Tam Bi
Jungmin Prajna
Raised in a rural Kansas Brother Thich Tam Bi had little exposure to Buddhism until his teenage years when he first experienced meditation though training at a Korean martial arts school. With very little in the way of resources or people to learn more from, Br. Tam Bi turned to the internet to guide him in his practice, and to the roots of his new found passion of Buddhism. None-the-less, because of the lack of a local Buddhist congregation, and/or teachers the internet remained his only access to the teachings of the Buddha.

As a young adult, Rev. Tam Bi relocated to the nearest metropolitan area, that of Kansas City Missouri where he made contact with the Refuge Sangha, a practice group under the auspices of the United Buddhist Church, and FMZO. After practicing with the local Sangha for some time, and engaging a formal student-teacher relationship with a Buddhist Master, Br. Tam Bi eventually ordained as a novice monk at the Mount Baldy Zen Center in California.

Before accepting his novice vows, Br. Tam Bi had a short but successful career in the non-profit sector working with several organizations to provide aid for people in need, a step on his path that would enable him to purchase a home outright. After his ordination, he quickly took to work converting his home to a residential temple for his teacher, and fellow monks in the Kansas City area, which would eventually be consecrated as "Chùa Pháp Ấn" or "Dharma Seal Abbey" (frequently referred to as "the Abbey"). Br. Tam Bi continues his work on "the Abbey" and his practice and study of Buddhism, he has a particular interest in the history of monastic living and the practical history of monastic life, studying these things as well as practicing them daily through gardening, his many projects at the Abbey and beyond.
---
---
Rev. Dr. Songdo Prajna is originally from Oxford, England, and has resided in the Pasadena area of Southern California since around 1990. He is ordained as a Brahmajala Priest with Five Mountain Zen Order. He has been practicing Zen since his late teens, having been introduced to Zen through the writings of the likes of Alan Watts, DT Suzuki and Christmas Humphries, and the teaching of the British Zen Master Douglas Harding. Additionally, he has maintained a parallel practice in the Christian faith, becoming a Third Order Franciscan when he was in his early 20s. Growing up as an Anglican, he transferred to the Episcopal faith in 1990, and then eventually became ordained as an Ecumenical (independent from Rome, liberal) Catholic Priest. Further, he also took precepts in the Soto Zen lineage of Maezumi Roshi (White Plum Sangha), receiving the Dharma name Tetsudo at the Zen Center of Los Angeles which he first attended in 1973. He is married with two children, a daughter who is an Episcopal Priest and a son who is a specialist in both medieval and modern literature. His wife is a university professor of English, a Sufi and an author of various books on poetry.
Rev. Songdo is a Board Certified Palliative, Hospice and Pediatric Chaplain, being certified both as a Christian and Buddhist chaplain; he ministers to patients in the greater Los Angeles and Orange County areas of Southern California. He holds a Doctorate in Psychology from University College London as well as an M.Div. from Claremont School of Theology. He continues to be very active in both Zen and Christian practice, and remains passionate about the parallels between Buddha's teachings and the Wisdom teachings of Jesus. He is currently the head priest at a liberal, inclusive independent Catholic Church in Hollywood, CA, and is in process of becoming abbot of a new Five Mountain Zen Order community he is currently establishing at the same location, known simply as Still Center. Rev. Songdo is a teacher and an author, and maintains various websites and blogs such as
www.christbuddha.org
,
www.stillcenter.org
and
www.kids-rights.org
.
---
---
Rev. Go'son Prajna
After finishing his enlistment in the military, Rev. Go'son took a class on Zen Buddhism at the University of California at Los Angeles where he met his first Zen Master Thich Thien An who was teaching the class he was taking. Brother Go'son, being intrigued by the practice of meditation eventually was ordained in the White Plum Asanga at the Zen Center of Los Angeles where he studied Soto Zen Buddhism for 20 years. While working in Las Vegas he discovered Buddha Dharma University which led to his ordination in the Five Mountain Zen Order.

He has recently been studying Zongmi and "The Avatamsaka Sutra". Touched by Dogen's "Uji" and Linji's shout. Br. Go'son lives with his wife, daughter and pet dog in Los Angeles, CA.
---
---
Rev. Anwol Devadipa
Thích Đạo Nguyệt
Rev. Anwol Devadipa (Mary Ann Marston) explored many spiritual practices during her life. In 2009 she joined the Shinnyo-en Buddhist Temple in White Plains, NY and studied there until she moved to Central New York state in 2013.

She found the Lotus Heart Zen sangha in 2015 in Oneida, NY, where she quickly became an active and devoted member. In October of 2015 she received Anagāriya precepts, and honored her vows through tireless effort and assistance to the sangha. On June 4, 2016 she received vows as a Śrāmaṇerī with the Five Mountain Zen Order, and received full ordination on July 15, 2017. She currently is Abbot and serves as the Communications Director for Lotus Heart Zen.

Rev. Anwol is a native of New Jersey and a retired geriatric nurse. She spent 10 years with the American Red Cross as a Disaster Services Co-Ordinator traveling througout the United States helping attend to the needs of those in need. She was at ground zero, following the terrorist attack at the World Trade Center in 2001, coordinating relief efforts.

She now lives in Sherril, NY with her husband, Robert. Rev. Anwol is currently under the guidance of Ven. Do'an Prajñā.
---
---
Rev. Cheolsoeng Prajñā (Viet: Thích Hiền Tính) first became interested in Zen Buddhism when he was 8, watching the show Kung Fu with David Carradine. He grew up to become a developmental research psychologist who studies how television and the media influence children. Apparently he should have conducted the research on himself.
​
An ordained Zen priest in the Five Mountain Zen Order, he has studied several styles of Buddhism. He completed the Secular Buddhist Studies certificate at the multi-lineage Interdependence Project in New York City, as well as their meditation teacher training program. He studied personally with Ethan Nichtern, a senior teacher in the Shambhala lineage, and is currently under the guidance of Most Ven. Wonji Dharma.
He resides in Ames, Iowa with his wife, daughters, and rabbit named Nutmeg. He is one of the leaders of the
Mindfulness and Meditation
group at the Unitarian Universalist Fellowship of Ames. If you are ever near on a Sunday evening, he invites you to drop in.
---
---

Rev. Cheolmin Prajna is a Brahmajala Priest in the Five Mountain Zen Order. He was appointed as Abbot of Hagu Soen Won (Bayou Zen Center) by The Most Ven. Dr. Wonji Dharma in July of 2017 and is working under his direction to establish a newly forming Zen Community in Shreveport, LA. Rev. Cheolmin is currently enrolled in Buddha Dharma University, and is currently working towards his M.Div. (Master of Divinity) in Buddhist Ministry.

​Prior to beginning his studies with Buddha Dharma University Rev. Cheolmin became interested in Zen Buddhism through the practice of Aikido whilst training under Dojo Cho Sensei William Ross and Assistant Instructor Sensei Eric Fountain at Aikido of Shreveport in Shreveport, LA with whom he has presently resumed training. For a brief period of time he also trained in Wu Style Tai Chi Chuan and Fu Style Dragon Shape Pa Kua, respectively, under the instruction of Master Glenn Guerin and Sifu Greg Guerin of Lee's Kung Fu and Tai Chi in Shreveport, LA. Rev. Cheolmin also served in the U.S. Marine Corps prior to his involvement with the Five Mountain Zen Order. He currently lives in Shreveport, LA with his young son T.J.
---
---