Five Mountain Zen Order - College of Archbishops
An Archbishop (Master Zen Teacher) is a bishop who, having received Inga and Dharma Transmission, presides over several dioceses in a large region. This position includes some supervisory responsibilities over both dioceses and bishops in that region. An Archbishop serves as a guide or instructor in religious matters; and is often the founder, or a leader within an Order. Additionally, the College of Archbishops serve as an equal Guiding Council for the Five Mountain Zen Order.
---
---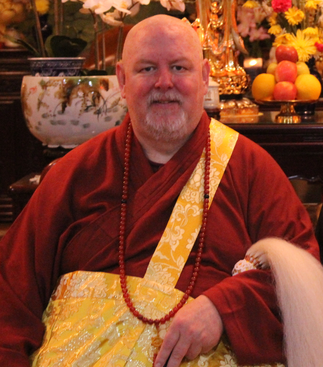 Ven. Wonji Dharma is a Mahāsthavira in the Lam Te Thíen tradition and a Brahmajala Monk in the Kwan Um Jong tradition; additionally, he is a Zen Teacher and the Founder - Guiding Teacher of the Five Mountain Zen Order as well as the Chancellor of Buddha Dharma University.
Ven. Wonji was ordained by Zen Master Seung Sahn as a Dharma teacher in 1995, as a Senior Dharma Teacher in 2001 and as a Brahmajala Monk in 2002. He received teaching authorization from Zen Master Ji Bong, in the Golden Wind Zen Order in April, 2006. Wonji additionally received the
250 Bhikṣu vows
on November 1, 2012 with Bhante Suhita Dharma (Hòa Thượng Thích Ân Đức), who was the first Dharma Heir of the Hòa Thượng Dr. Thiên Ân. Unfortunately Bhante died suddenly on Dec. 28, 2013 in Los Angeles at Chùa Diệu Pháp Temple in San Gabriel, California, where he resided. He was 73. Following the agreement made with Bhante Suhita Dharma to study for at least five years under a Thien Master, on July 15, 2014, Wonji was accepted as a student of Ven. Thích Ân Giáo Roshi who was Bhante Suhita's Dharma Brother and close friend. Wonji is studying the intricacies of monastic practice and life from Ven. Ân Giáo.
History
Ven. Wonji originally began practicing Advaita Vedānta as well as Vipassana Meditation in 1985 with Swami Chaitanya Siraj and took refuge vows with his teacher that same year. Swami Chaitanya Siraj had studied with Bhagwan Shree Rajneesh (Osho) in his Indian Ashram for many years and was designated as a teacher in Osho's lineage; additionally Siraj's path of teaching was wide and open to all of the Wisdom Traditions.
Ven. Wonji's direction has been informed by Zen since his College days of studying Psychology. Wanting to experience the direct experience of koan study he eventually discovered Zen Master Seung Sahn and the Kwan Um School of Zen in 1989 and began practicing regularly at Dharma Zen Center in Los Angeles. After practicing and training at Dharma Zen Center for five years he received sanction and encouragement from Zen Master Seung Sahn to open the Huntington Beach Zen Center on August 14, 1993, where Wonji was installed as Abbot by Zen Master Seung Sahn during the Opening Ceremony.
The Huntington Beach Zen Center was renamed one year later at the first anniversary ceremony by Zen Master Seung Sahn to Ocean Eyes Zen Center (Hae An Soen Won). The center was originally founded as a residential Zen Center where up to six students lived and practiced together every morning and every evening. The Zen Center eventually moved to Stanton and later to the Bixby Knolls area of Long Beach where it remained until the center was forced to close and relocate to a non-residential Center in 2000 due to zoning Issues with the City of Long Beach.
He has practiced with more than thirty different Zen Buddhist masters, as well as several Transmitted Catholic Zen masters during his studies and consequently maintains an eclectic approach to spirituality. Wonji earned a Bachelor of Science Degree in Psychology from Cal State Long Beach, he also hold a
Master of Dharma Degree in Buddhist Psychology
and a
Doctor of Dharma in Buddhist Psychology
from the Buddhist Studies Institute of Los Angeles. When the outgoing President and Abbot of both the Buddhist Studies Institute of Los Angeles and the International Buddhist Meditation Center of Los Angeles stepped down and retired Ven. Karuna Dharma, the previous President of the College, turned over control to the Five Mountain Zen Order. Ven. Wonji currently resides at Chùa Pháp Ấn (Dharma Seal Temple) which is located in Kansas City, Missouri.
Ven. Dr. Wonji Dharma has written 11 books:
To view Ven. Dr. Wonji's current interview schedule you can visit his web calendar
here
.
---
---
---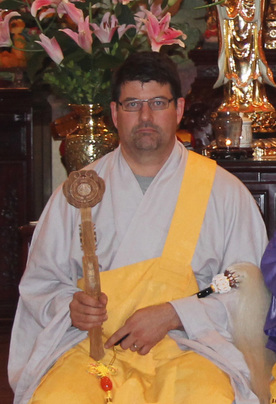 Hwasahn is an Zen Teacher and one of the Co-Founders of Five Mountain. He is also a Monk who holds a Masters Degree from Buddha Dharma University. He received Transmission from Abp. Wonji Dharma, D.Dh. on January 28, 2012 in a Ceremony at the Zen Center of Las Vegas. On June 13, 2015 he received Transmission of the Dharma from Ven. Dr. Wonji. He also serves as the Guiding Teacher of the
Mountain Gate Zen Center
in Berkeley, California.
Abp. Hwasahn began practicing Zen Buddhism in 1986 at the age of twenty-one under the renowned Japanese teacher Taizan Maezumi Roshi at the Zen Center of Los Angeles (ZCLA). He became a resident of ZCLA, practicing daily in a lay-monastic environment.
Following a break to finish his Acupuncture Degree and establish his new practice, Abp. Hwasahn returned to formal study of Zen Buddhism with Zen Master Ji Bong Hae Um of the Golden Wind Zen Group. Zen Master Ji Bong was one of Zen Master Seung Sahn's American students.
Professionally, Abp. Hwasahn is a practitioner of Oriental medicine (L.Ac.) and is a teacher of Chinese martial arts and Daoist Yoga. He is certified in Tien Tao Chi Kung and has over the years studied was various Qi Gong masters. He has served as a college teacher of both acupuncture anatomy and herb pharmacology & Chinese nutrition.
In 2009, Abp. Hwasahn founded
Turning Point of Berkeley
California, an institute dedicated to bringing the wisdom of Asian mind-body healing techniques to the public.
---
---
---
Most Venerable Sunyananda Dharma is a multi-yana trained, fully authorized Buddhist Master. Initially ordained in the Korean Seon tradition of Zen Master Seung Sahn, Sunyananda later incardinated into the tradition of Zen Master Il Bung receiving the name Dok Sim (Sunim) from Zen Master Son Hae, as his only disciple. He has further trained extensively in the Lâm Tế Thiền lineage of Hòa Thượng Thích Thiên-Ân (the first Vietnamese Patriarch to the West), under his first western disciple Hòa Thượng Thích Ân Đức (Suhitananda Dharma Mahathero), receiving the transmission name of Thích Đức Tâm.
Having been first exposed to contemplative practice over twenty years ago, Sunyananda has experienced a wide range of religious traditions since his childhood (having spent ten years in Christian ministry school, and having trained as a Swami in the Bhakti yoga tradition), and has thus adopted a very pluralistic approach to engaging the dharma, and strives to foster an atmosphere where truly all are welcome to explore and integrate Buddhist teachings.
Sunyananda has studied and taught Buddhism and Buddhist Martial Arts throughout the world, lectured at numerous colleges and universities, in addition to appearing in and writing for various media outlets, and even representing his tradition at the White House.
Studying under the guidance of Ni Trưởng Thích Nữ Ân Từ (Dr. Karuna Dharma), Sunyananda earned his monastic ministerial Masters and Doctorate degrees at the Buddhist Studies Institute - Los Angeles, before being named head of the Institute (which was first founded in 1973 by Most Venerable Dr. Thích Thiên-Ân) in 2012.
In November of 2012 Most Ven. Sunyananda received the mind-seal of Inka (independent teaching authorization) from Master Wonji Dochong, as a Master of the Kong An (Jp. koan) tradition. Master Sunyananda has further trained in the Tibetan Vajrayana tradition, and received the Bodhisattva vows directly from Dzogchen Master Lama Kunzang Tenzin (Surya Das), and in 2014 Master Đức Tâm received transmission of the Patriarchal hats and robes (Truyền Y Mão) from the President of the Vietnamese United Buddhist Churches, Hòa Thượng Thích Như Minh.
In April of 2015 Sunyananda was transmitted as 78th Generation Master, and the 4th Supreme Patriarch (宗正) of the Il Bung Zen tradition in the West, with the title "Most Venerable". He further, in June of 2015 received the final "transmission" authorization of completion of study in the Kong An (Jp. koan) tradition.
Sunyananda has studied traditional life protection (martial) arts for slightly longer than Buddhism (having received his first introduction to the Dharma via that involvement), and has attained the title of Master in several of these arts, to include Bulkyo Mu Sool, Ryukyu Kempo, Hapkido, Tukkong Mu Sool and Taekwondo. He has taught seminars throughout the United States, and actively instructs Buddhist Life Protection Arts through programs in Kansas City, as the third Grandmaster of the Korean Buddhist Martial Arts Association, which was founded in 1968 at Jogyesa temple in Seoul, South Korea.
Outside of his day-to-day temple duties, Most Venerable Sunyananda serves as board President of the Kansas City Coalition for Welcoming Ministries and maintains an interesting blog at
Errant Abbot
.
---
---
Archbishop Dr. Jishou Dharma, M.T.
Transmission Name: Geungsan Jishou 恒山慈紹
Ven. Dr. Thích Đức Liểu, M.T.
Archbishop of Běiyuè 北嶽
(Great Northern Mountains)
---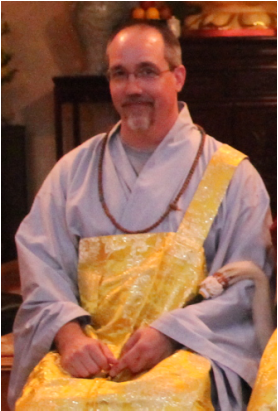 Archbishop Jishou Dharma, PsyD, PhD, MT is a Zen Teacher and
Mahāsthavira
in the Five Mountain Zen Order. He also serves as the Director of the
Center for Clinical Mindfulness & Meditation
.
Abp
Jishou Dharma ordained in 1991 as a priest in Japanese Tendai Buddhism where he received extensive teachings on sutra and tantra and has been fortunate enough to be able to practice these teachings in everyday life. Jishou Dharma began practicing with Ven. Dr. Wonji Dharma in 2008 and, based upon his diligent practices during retreat, Jishou was consecrated a Bishop in 2011 with his receipt of inka.
Abp
. Jishou Dharma holds a doctorate in clinical psychology (PsyD), a doctorate in Buddhist Philosophy (PhD) from Buddha Dharma University, a master's in business administration (MBA), and is board-certified in clinical psychology (ABPP). He runs a private psychology and consultation practice in Cincinnati, Ohio (
www.psych-insights.com
), and is core faculty in the PsyD Program in Clinical Psychology at Union Institute & University. He is also Clinical/Research faculty at the UC Center for Integrative Health and Wellness, and Volunteer Associate Professor of Psychiatry & Behavioral Neurosciences at the UC College of Medicine.
Also, he is a fifth degree black belt in Ninjutsu (receiving the warrior name Watoshi), and once served briefly as a personal protection agent for the Dalai Lama of Tibet with his teacher, Stephen Jien Hayes.
Abp.
Jishou Dharma has written 16 books:
Mindfulness: Living through challenges and enriching your life in this moment
Mindfulness in Clinical Practice
Consultation Skills for Mental Health Professionals
Building Competence in Mindfulness-Based Cognitive Therapy
Perspectives on Spirituality and Religion in Psychotherapy
Mindfulness-Based Cognitive Therapy for Posttraumatic Stress Disorder
An Overview of Buddhism
An Introduction to Tendai
An Introduction to Mikkyo
The Lotus Sutra
The Heart Sutra
Kuji: The Nine Syllables
Tendai Daily Practice Manual
The Ritual of Fudo-Myo-O
The Vows of Jizo and the Life-Span Sutra
Japanese for the Martial Artist
---
---
Archbishop Taesan Dharma
Transmission Name: Taesan Doshim 泰山道心
Ven. Thích Đức Trí
Archbishop of Dōngyuè東嶽
​(Great Eastern Mountains)
---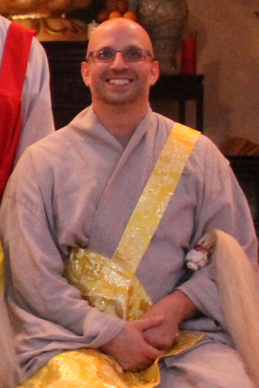 Abp. Taesan Dharma is a
Bhikṣu
in the Five Mountain Zen Order. He teaches high school English in central New Jersey and courses at Buddha Dharma University, where he is also completing his doctoral degree in Buddhist Studies. He is the guiding teacher of the
Original Mind Zen Sangha
in Princeton, NJ. For several years, Abp. Taesan practiced Japanese Zen in the Sanbo-Kyodan and Soto lineages before finding his home in the Five Mountain Zen Order. Upon receiving
inga
from Abp. Dr. Wonji Dharma, M.T. during Sangha Weekend in 2012, Abp. Taesan was consecrated a Bishop. That same weekend, Doshim was fully ordained in the Vietnamese (Lam Te Thien) tradition under Most Venerable Suhita Dharma, from whom he received the ordination name "Thich Duc Tri."
Doshim writes a Zen blog,
Original Mind
, and offers a free weekly Buddhist
podcast
.
He has authored four books about Zen and meditation:
---