---
Five Mountain Zen Order - College of Bishops

A Bishop (Zen Teacher) is a senior clergy member who, having received Inga, presides over one or more congregations. This position includes some supervisory responsibilities over both congregations and leaders in that region. A Bishop serves as a guide and instructor in religious matters; and is often the founder and leader of his or her congregations.
---
---
​Ven. Do'an Prajna is a bhikṣu (fully ordained Zen buddhist monk) and teacher of meditation and Zen. He is also a contemplative artist and writer, living in Oneida, NY.
He attended State University of New York at Oswego, receiving a Bachelor's (B.A.) degree with a dual major of Philosophy and Writing. He received a master's (M.F.A.) degree from Goddard College in Plainfield, Vermont and later attended seminary receiving a Masters of Divinity (M.Div) from Buddha Dharma University.
Meditation and spiritual practice has been a guiding force in his life since he was a child. Beginning with a fascination with the natural world and the spiritual practices of the East and later developing interest in exploring the arts and finally devoting his life to spiritual practice and service.
After studying Eastern Philosophy and the Philosophy of Religion as an undergrad. During his undergraduate years he trained and participated in non-violent conflict resolution and social change. He was asked to give presentations on non-violent theory and practice at several classes while at SUNY Oswego.
He went on to explore morality and ethics through writing and fairy tale literature while in graduate school. Soon after receiving his MFA, he became an avid practitioner of Sivananda Yoga for several years and then moved on to becoming a devoted lay practitioner of Zen Buddhism.
In 2001 he began formalizing his practice in anticipation of training to become a Buddhist monk, first under the guidance of Ven. Myoji Sunim JDPS, with the Korea Buddhism Jogye Temple of America and Kwan Um School of Zen. He committed much of his spare time to practicing with and learning from Ven. Myoji, spending three days a week for over two years living at the New York Jogyesa Temple in Woodside, Queens. He attended several events and participated in ceremonies throughout New York City, New Jersey, Connecticut and Rhode Island with his teacher. In 2002 he traveled to South Korea to attend the World is a Single Flower Conference and acted as Ven. Myoji's assistant while traveling throughout Korea visiting Temples and lay practitioners. One of the highlights of this life-changing trip was the opportunity to sit with Zen Master Seung Sahn in a personal interview.
His formal training was put on hold when he was guided to explore the role of art in his life. Shortly after he began a career as an artist, exploring symbolism and myth through painting. He also became a fiber artist, creating needle-felted sculptures of pets and totem animals, and a spinner and weaver. All of his art and craft work was guided by a contemplative practice that he learned, first through yoga and then during his formal training in Zen.
In 2013, he resumed his formal training in Zen Buddhism under the guidance of Ven. Dr. Wonji Dharma of the Five Mountain Zen Order. In the summer of 2016, he received ordination under the name Do'an Prajna (Thích Hiển Đạo), which mean's "Wise Vision", following in the tradition of Zen Master Seung Sahn (Korean Seon) and Ven. Dr. Thích Thiên-Ân (Vietnamese Thiên). He was appointed as the Chief Abbot for the Five Mountain Zen Order in 2015 and recently made Dean of Student Affairs at Buddha Dharma University, the seminary for Five Mountain Zen.
In addition to offering individual and group teaching and guidance, Do'an continues to explore the contemplative arts, and living each moment with Compassion, Attention and Gratitude. In 2014, he established Lotus Heart Zen in Oneida, NY and continues to be the guiding teacher and abbot. He lives with two small dogs and several fish and plants in Oneida, NY in a 110 year old house, which he calls Lotus Heart Zen Abbey, built by his great grandparents.
---
---
---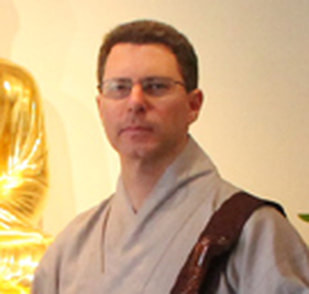 Bishop Domun Prajna, is both a Bishop and Brahmajala Priest in the Five Mountain Zen Order. He began training with Abp. Wonji Dharma in early 2004 at the Ocean Eyes Zen Center in Long Beach.
Bp. Domun was interested in the Buddha and meditation from an early age. Interest turned into meditation practice in the early '90s, starting 5 thought-filled minutes at a time. He briefly visited a few different meditation centers. However, a life Koan became "If the Buddha was able to attain enlightenment without belonging to a Sangha, why can't I?"
He continued his personal practice of sitting along with reading the books of Seung Sahn. In 2004, he met Abp. Wonji Dharma at the Golden Wind Zen Center. Not yet ready to join a Sangha, he worked on and off with Abp. Wonji. In 2010, he added to his meditation practice intensive Kong'an practice with Abp. Wonji. This Koan practice turned out to be the missing ingredient, and his personal Koan was answered in January of 2012 when Domun received inka as was thus consecrated a Bishop in the Five Mountain Zen Order.
He now wishes to share the benefits of Zen and Koan practice with others. Domun writes the Zen Blog -
Mind Makes Everything
and has written one book:
---
---
Ven. Hyeonmin Prajna
Regional Abbot
​(US Hispanic Communities)

---
Bishop Sergio Hyeonmin Prajna is an authorized Zen teacher and Buddhist priest ordained in the Zen tradition as represented by the Five Mountain Zen Order. Hyeonmin received Inga at a Ceremony in Bar Harbor Maine at the True Nature Zen Center on October 24, 2015 A native of San Jose, Costa Rica he began practicing mindfulness meditation in 2003 while living in Savannah, GA. His involvement with Buddhism started in 2010 after moving to New York City, where he lives at the present time.

He is currently studying Zen with Archbishop Wonji Dharma, the Founder and Guiding Teacher of Five Mountain Zen Order, with whom he engages in weekly koan practice. He also serves as Abbot at Open Sky Zen Meditation & Buddhist Studies Group in New York City.

Ven. Sergio Hyeonmin Prajna is presently working on plans to start offering the dharma en Español to the Spanish-speaking immigrant community of the Big Apple (most likely the biggest social group still largely untouched by the dharma.)
---
---
Ven. Dr. Jabo Prajna is a Zen Buddhist priest and Bodhisattva monk in the Five Mountain Zen Order. She began studying Theravâdin Buddhism in 1998, adding Zen with the Kwan Um School and later with the Golden Wind Zen Group in 2003, and Tibetan Buddhism in 2008. She currently practices in both the Zen and Tibetan traditions. She began to study Zen with Ven. Wonji Dharma in 2003 when he was abbot of Ocean Eyes Zen Center. Additionally, Ven. Jabo has taken Refuge Vows and Bodhisattva Vows with Tibetan guru Lama Tsultrim Allione of Tara Mandala in Colorado. She attends extended retreat with Lama Tsultim yearly, studying the inner depths of Vajrayana Buddhism.

Ven. Jabo received Inga from Ven. Wonji Dharma on April 16, 2016. Jabo facilitates twice-weekly practice as well as offering periodic workshops and retreats at both Single Flower Zen Center and Ocean Eyes Zen Center. In her free time, she enjoys painting, jewelry making, and other creative endeavors.

Ven. Jabo is also a Reiki Master who practices at Reiki from the Heart in Claremont, California. Additionally, she earned a J.D. from Western State College of Law at Argosy University in Fullerton, CA graduating with her class in 2002. She is now retired from teaching and administering as a Law Professor and is a full-time priest. She enjoys quality time with her husband Michael and her animal friends.
---
---
Ven. Bonyon Prajna is the Vice-Abbot of Five Mountain Zen and is the resident Abbess of True Nature Zen Center in Bar Harbor, Maine. Bonyon recieved authorization as a Dharma Holder at a Ceremony in Bar Harbor, Maine on October 24, 2015.

In addition to her duties running the Zen Center she also operates Yoga@Cattitude, where her mindfulness yoga classes emphasize the traditional purpose of yoga as a pathway out of suffering and liberation from conditioned reactivity.

Ordained as a Zen Priest in 2011, she is a graduate of the Prajna Institute for Buddhist Studies with a Master's of Arts Degree in Buddhist Studies. And she really, really likes cats.
---
---
Ven. Dr. Hyonjin Prajna
Ven. Dr. Hyonjin Prajna is originally from Kansas City, Missouri and has lived in Guadalajara, Mexico since 2000. He is the Regional Abbot (Mexico) for Five Mountain Zen and the Abbot of Meditación Budista Zen in Guadalajara, Jalisco, Mexico serving the sangha through spiritual counseling, Dharma studies, guiding retreats, giving public lectures, and writing for local magazines on Zen meditation and practice.


He was a student at the Prajna Institute for Buddhist Studies and initially trained with Myogak, JDPSN. He will be finishing his Master's Degree at Buddha Dharma University and has began studying with Venerable Dr. Wonji Dharma. Additionally, he received ordination of Rev. Master Meiten McGuire, M.O.B.C. in 2007 in the tradition of Soto Zen.


He holds a doctorate in East-West Psychology (comparative religions and transpersonal psychology) from the California Institute of Integral Studies with a focus on Eastern spirituality and meditation techniques involving over 40 years of ongoing investigative research. He is fluent in English and Spanish.
---
---
Ven. Songdo Prajna
Thích Hiền Thành
Ven. Dr. Songdo Prajna is originally from Oxford, England, and has resided in the Pasadena area of Southern California since around 1990. He is ordained as a Brahmajala Priest with Five Mountain Zen Order. He has been practicing Zen since his late teens, having been introduced to Zen through the writings of the likes of Alan Watts, DT Suzuki and Christmas Humphries, and the teaching of the British Zen Master Douglas Harding. Additionally, he has maintained a parallel practice in the Christian faith, becoming a Third Order Franciscan when he was in his early 20s. Growing up as an Anglican, he transferred to the Episcopal faith in 1990, and then eventually became ordained as an Ecumenical (independent from Rome, liberal) Catholic Priest. Further, he also took precepts in the Soto Zen lineage of Maezumi Roshi (White Plum Sangha), receiving the Dharma name Tetsudo at the Zen Center of Los Angeles which he first attended in 1973. He is married with two children, a daughter who is an Episcopal Priest and a son who is a specialist in both medieval and modern literature. His wife is a university professor of English, a Sufi and an author of various books on poetry.
Rev. Songdo is a Board Certified Palliative, Hospice and Pediatric Chaplain, being certified both as a Christian and Buddhist chaplain; he ministers to patients in the greater Los Angeles and Orange County areas of Southern California. He holds a Doctorate in Psychology from University College London as well as an M.Div. from Claremont School of Theology. He continues to be very active in both Zen and Christian practice, and remains passionate about the parallels between Buddha's teachings and the Wisdom teachings of Jesus. He is currently the head priest at a liberal, inclusive independent Catholic Church in Hollywood, CA, and is in process of becoming abbot of a new Five Mountain Zen Order community he is currently establishing at the same location, known simply as Still Center. Rev. Songdo is a teacher and an author, and maintains various websites and blogs such as
www.christbuddha.org
,
www.stillcenter.org
and
www.kids-rights.org
.
---
---
Ven. Go'son Prajna
Thích Hiền Côtòng
Ven. Go'san was granted authority as a Hwasangnim in the Five Mountain Zen Order in April 2017. He began studying with Ven. Dr. Wonji when the two of them were living in Las Vegas in 2012. On the 16th day of April in the year 2016, Michael Ford (Original Name), Go'son Prajna 成道智 Buddhist Name), Solitary Pine of Wisdom (Translation), Thích Hiền Côtòng took Brahmajala Precepts at Danhwa Soenwon as a Pujari—Priest in the Five Mountain Zen Order.

After finishing his enlistment in the military, Ven. Go'son took a class on Zen Buddhism at the University of California at Los Angeles where he met his first Zen Master Thich Thien An who was teaching the class he was taking. Ven. Go'son, being intrigued by the practice of meditation eventually was ordained in the White Plum Asanga at the Zen Center of Los Angeles where he studied Soto Zen Buddhism for 20 years. While working in Las Vegas he discovered Buddha Dharma University which led to his ordination in the Five Mountain Zen Order.

He has recently been studying Zongmi and "The Avatamsaka Sutra". Touched by Dogen's "Uji" and Linji's shout. Br. Go'son lives with his wife, daughter and pet dog in Los Angeles, CA.
---
Ven. Dr. Minshim Prajñā
Thích Hiẽn Mẫn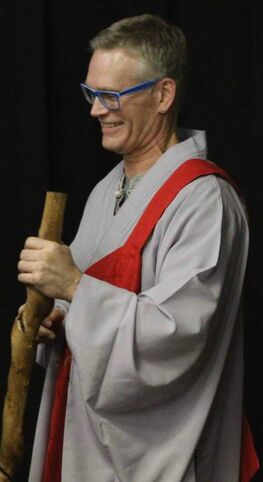 Ven. Minshim Prajñā (Dr. Neal J. Sivula) became interested in Buddhism through his training as a Veterinary Acupuncturist. He is a Veterinarian and a fully ordained Priest in the Five Mountain Zen Order. He received Inga (full teaching authority) on July 27, 2019 from Most Ven. Dr. Wonji Dharma.

Ven. Minshim has a Doctor of Veterinary Medicine degree, a Ph.D. in Veterinary Medicine, as well as a M.Div. in Buddhist Ministry from Buddha Dharma University. He continues to engage in regular study with Most Ven. Dr. Wonji Dharma.
​
He is passionate about bringing Buddhist traditions into the lives of interested practitioners from every walk of life. He also practices Holistic Veterinary Medicine in Richfield, Ohio and shares his home with his wife and a myriad of cats and dogs. He teaches continuing education courses for Veterinarians on both Holistic Medicine and Practitioner Wellness topics.
---
---
Teachers on Extended Sabbatical
Ven. Do'an Dharma
Thích Đức Thức

---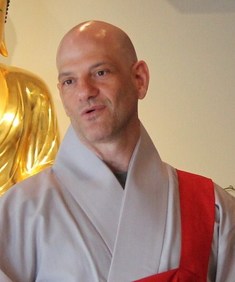 Bishop Do'an Dharma is an authorized Zen teacher and Buddhist monk. He was ordained in the Korean Zen tradition as represented by the Five Mountain Zen Order as well as the Vietnamese lineage of Ven. Dr. Thich Thien-An. In addition, Bp. Do'an received authorization as a dharma teacher from the
Interdependence Project
where he now serves as a senior teacher, and holds a certificate in Foundations in Buddhist Chaplaincy from the New York Zen Center for Contemplative Care. As part of his chaplaincy training he offered spiritual care and support to terminally ill patients in a hospice residence.
In 1985 he co-founded Long Island Gay and Lesbian Youth (LIGALY) which he facilitated until 1991, and was a counselor with the Long Island Crisis Center for close to a decade. In conjunction with the Lineage Project, Bp. Do'an taught meditation to at-risk and incarcerated teenagers.
Do'an writes for The Interdependence Project and currently works with individuals and couples as a
life coach
and
wedding officiant
.
---